Our Consultant Spotlight series is an opportunity to better meet our team at Honeydew Consulting. Having joined Honeydew in 2019 with her first role in the consulting industry, Alisa has quickly developed into a recognized expert in field of Beaker lab reporting and is now an important part of the management team at Honeydew.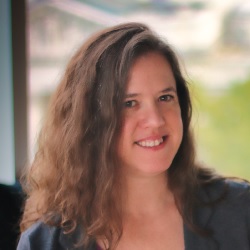 | | |
| --- | --- |
| Areas of expertise | Reporting & Charging |
| Location | McFarland, WI |
| Current role | Charging & Reporting Lead, Atrium Health |
| Past organizations worked with | Harris Health – Reporting, UW Health LIS Analyst |
To start things off, can you tell us about your background?
Alisa Leamy: In 2013, I started in Healthcare IT working for a company that provided real time data to pharmacists and infection prevention nurses for their clinical surveillance and compliance needs.
You must have enjoyed that work since you're still doing a lot with reporting. Do you think that set the foundation to your career and interests in Healthcare IT or do you think you discovered that calling after trying other areas?
I was working a lot with the Analytics Director there, and started utilizing reporting functionality out of our ticketing system. This is where my love for using data to improve outcomes and predict behavior started. I really loved working in healthcare IT and also had experience with Epic interfaces, so when I found a job that included certification in Epic Beaker and I was thrilled.

Now you're the charging and reporting lead at Atrium Health, seems like the perfect fit! Any advice for people trying to find those "perfect" roles?
When I decided to get into consulting I made sure to wait until I had found a contract that really catered to my skills. My first contract at Harris Health couldn't have been better. I was able to dive right in and make improvements immediately, I also learned so much and became a trusted advisor. I took the same approach for my next contract, and it has worked out well so far. I have always been able to also learn new things.
Sounds like the transition into consulting went smoothly for you.
It was great! I made sure to find a great contract – it fit my skills and abilities perfectly.
What's the best thing about your job?
Working from home and being a trusted advisor to new analysts, forming relationships with all my colleagues.
Any words of advice to other looking to get into consulting?
Make sure you are completely qualified for your first contract. It will make the transition easy. I submitted for a few that I probably wasn't qualified for and I'm really happy I didn't get those roles. Once you get a role you are comfortable in, make sure you continue to take on new (to you) responsibilities or build to improve your skills.
What about some insight on installing or managing Beaker you think organizations should know?
Installing Beaker during the pandemic has been so hard. If you have new analysts that have mostly been working from home, make sure to staff your team with experienced consultants and plan to spend more time pairing those analysts up with and experienced "buddy." Find creative ways to make virtual meetings more engaging to make sure end users pay attention
Any particular tips on virtual meetings you could share with the audience?
Make sure you have nice big dual monitors, a good camera and microphone. It makes all the difference to not have technical issues. Virtual meetings on camera are a good alternative to in person meetings as they force you to pay attention!
For as something more personal, tell us about your love for live music!
One of the best things about living in the Madison area is that we have tons of free live music in the summers. I'm thrilled that all of the music we've missed in the last few years will be back this summer. I'm excited to take my 4 year old out to these events and watch her dance and have fun!
Speaking of the Madison area, McFarland is home to Madison's curling club! Have you ever gone curling?
NO! But I worked with Matt Hamilton for many years at Tornado Steakhouse! He's a delight.
Ah, two Wisconsin icons!
🍈